Alexis Jordan Net Worth 2020 Wiki, Bio, Family, Education, Career and Facts
Alexis Jordan is an American actress and singer. Alexis is best known after her successful songs with R&B, pop, and dance-pop. Jordan has dropped many successful singles like Hush Hush, Happiness, and Good Girl. She has published a collection of singles under her name, Alexis Jordan.
In 2011, Alexis
was presented
with the ESKA Music Award for one of her singles called Happiness, which was the National Hit of the Year
. Jordan made her appearance in Sean Paul's Got 3 Luv U, which
was ranked
1 in Bulgaria and Switzerland.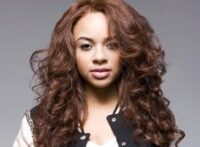 Image Source: Pinterest
Alexis Jordan was born on 7th April 1992 in Columbia, South Carolina. Alexis's mother's name is Tammy, who is an Afro-American and her father's name is Michael, who is Puerto Rican. Alexis is American by nationality and her ethnicity is multiracial.
Alexis's parents are her primary supporters behind all her success. She has three young siblings named Taylor, Malachi, and Malcolm. At the age of 11, she moved from Columbia to Santa Clarita with her family to pursue a career in the Arts.
Alexis Jordan's Education
There is no info regarding her academic perks. She began writing songs when she was in third grade. Since her childhood, she showed a keen interest in pursuing arts.
Alexis Jordan has always shown a great interest in pursuing Arts. At the age of 12, she served as an opening act in a concert for Smokey Robinson. In 2006, she auditioned for America's Got Talent, where she sang Whitney Houston's 'I Have Nothing' and mesmerized the judging panel. She was eliminated in the semifinal round.
After elimination, she started uploading her videos on YouTube. In 2008, one of her videos on YouTube garnered millions of views. Her YouTube videos caught the attention of the famous record label StarGate, which led her to New York to record some songs. She later signed with StarRoc.
In 2010, she dropped her single 'Happiness' which reached number one in the Hot Dance Club Song and remained at number one for 10 weeks. In 2011, she released her second single 'Good Girl'. In 2012, she embarked on her first musical tour and performed in three cities in the United States.
Some of her notable tracks include Hush Hush, Acid Rain, Good Girl, Shout Shout, Gone, and Happiness. In 2014, Alexis was dropped from Jay-Z's Roc Nation label after the single failed to chart.
Alexis announced on her Instagram account about her comeback to her YouTube channel.
Alexis Jordan Instagram
https://www.instagram.com/p/B3MyhqShLMD/?utm_source=ig_web_copy_link
Alexis Jordan's Personal Life
In 2014, Alexis took marriage vows to Luke Anthony Broadlick who is an actor and dancer. The couple wedded in a private wedding ceremony and invited only family members and close friends. The couple announced their wedding a year later via Alexis's social media handle.
Alexis and Luke have a daughter named Anora and two sons named Joseph and Abel.
Alexis Jordan's Net Worth
Alexis's estimated net worth is yet to be revealed. She must have accumulated a hefty fortune from her professional career. Currently, she is leading a luxurious life with her family and busy upbringing her children.
Alexis Jordan's social life
Jordan is active on social media platforms. She has more than 49k followers in her Instagram account and her Twitter account has 138k followers. She also has a YouTube channel under her name Alexis Jordan and has 2.29k subscribers.
Alexis Jordon Youtube
Facts about Alexis Jordan
● Alexis started her singing career at the age of 12.
● She was dropped by her agency after one of her songs failed to chart.
● She usually shares photos and videos of her children on her social media accounts.